Eyeball to eyeball with Canada's migrating salmon
BBC Travel: My brain froze as I submerged into the cold water of British Columbia's Shuswap Lake. But the discomfort paled as I watched sockeye salmon – hundreds of cherry-tinted fish with moss-green heads – swirl overhead like a kaleidoscope. At the end of an epic 4,000km journey, they were waiting to swim the final leg upstream to spawn and die. (See also our Sport Diver slideshow)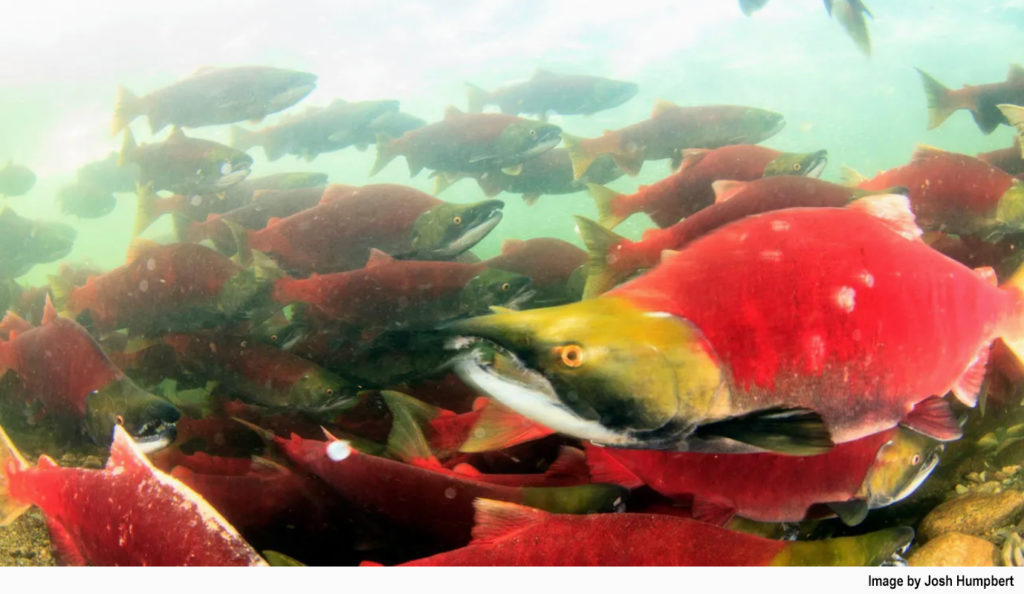 Honduras: Calm as a Hurricane's Eye
Winner of the Lowell Thomas bronze, 2007, adventure writing
Road and Travel: Everything in Honduras is slow, slow as I've never experienced. Heat leaches muscle fiber, skeletal strength and all ambition. Coral sand grits under my bare feet, after the espadrilles unlace. Even the lightning pulses long and lazy on the ocean's horizon. Tropical diving downshifts yet another gear, if such a thing is possible.
Researchers Invent Reusable Netting To Clean Oil Spills
Sport Diver: Scientists have invented a stainless steel mesh, which — scaled up — could separate oil and water for less than $1 per square foot.
What It's Like to Dive With Fighting Sharks
Sport Diver: Two dozen sharks swirl in as the crew lowers the chumsicle — a ball of frozen fish chunks. Yap's 81-degree Fahrenheit waters blur its edges, triggering little solar flares of blood, which look greenish-black 40 feet down.
How One Man's Obsession Created the Edmonds Underwater Park
Scuba Diving Magazine: Bruce Higgins created a movement of divers that transformed a Seattle-area patch of sand into a beloved dive site. Read the web-version.
Social Media Detects Sea Star Wasting Syndrome
Sport Diver: First the sunflower stars melted, then the SpongeBobby ochre sea stars. "Arms were falling off," says Laura James, a Seattle diver. The filmmaker captured some of the first footage documenting sea star wasting syndrome in late 2013. Soon, horror sotires echoed from Baja to Alaska's farthest islands, as history's largest marine-disease outbreak hit 20 West Coast species.
Governing Bodies Work to Ban Microbeads Worldwide
Sport Diver: Worldwide, the race is on to ban microbeads, the exfoliating plastic found in body washes and whitening toothpastes. These miniature spheres of polyethylene — small as grains of sand — slip right through the filters in wastewater plants. Washed down the drain, the tiny material can't be recycled — and might take hundreds of years to completely degrade, if ever.
Solomon Islands Hawksbill Sea Turtle Population Bounces Back
Sport Diver: After 150 years of exploitation, the Solomon Islands nearly killed off its sea turtle population. Today, according to a new Plos One study, the nests have doubled, making this the first known recovery for a western Pacific hawksbill rookery.
Bagging Crowns
Yap's Latest Eco-efforts to Save a National Treasure
Sport Diver: Spanning an area the size of the continental US, Micronesia encompasses 5 percent of the Pacific Ocean and contains 61 percent of the world's coral species. Yet some are under threat. Each Crown of Thorns sea star (COT) can devour a square yard of reef every day.
Flow State
Tapping the Subconscious Grace of Palau
Sport Diver 10-page cover story: Hundreds of red snapper swirl like a galaxy, thick enough to block sunlight. For only three days each year, they gather in this fathomless deep to spawn during a full winter moon. I arc away from the reef, spindling toward the great ball of fish, enthralled. Buffalo stampeding. Locusts swarming. My mind fumbles for a sense of scale…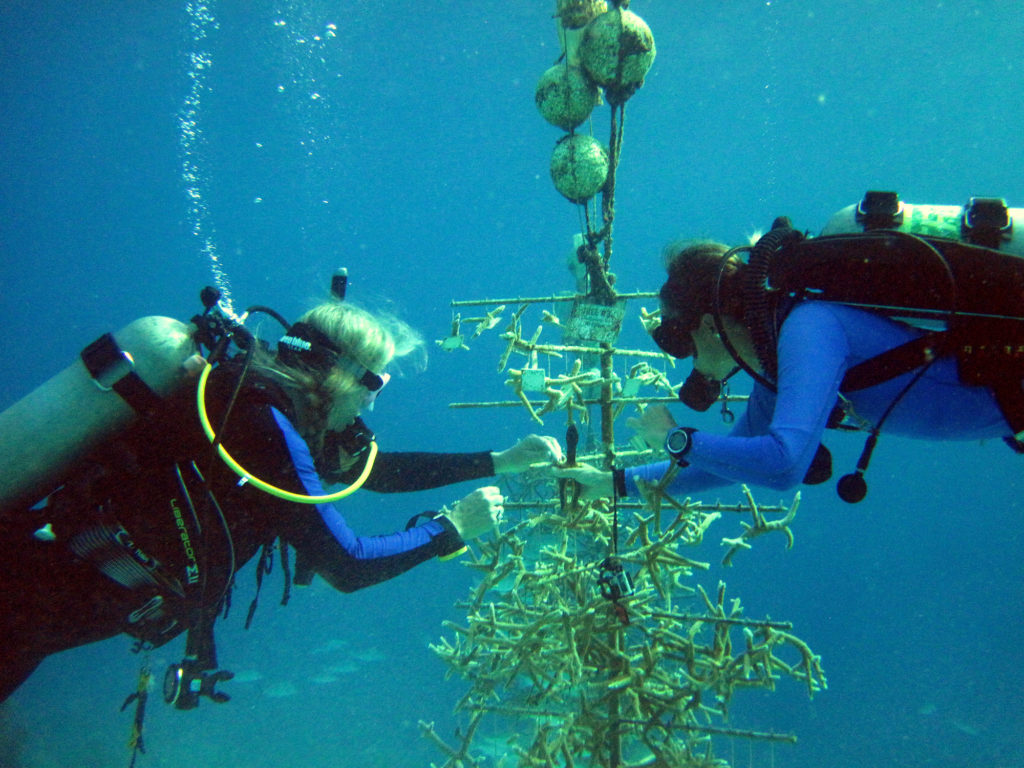 Writer Lisa Sonne and coral-conservationist Francesca Virdis hang fragments on a
PVC "tree" outside Buddy Dive, Bonaire. Image copyright AC.
Utah Revival
Scuba Diving Magazine: Among the hermits and speedracers of Bonneville's salt flats, misfit fish thrive in desert hot springs.
Diving In. Water covers seventy percent of the world: don't miss out
Visa Black Card Magazine: A 16-page spread: Somersault off the boat, into the blue. Drift down to the wreck or the reef. Or maybe towards some rock formations, sculpted long before a cavern flooded. The slightest kick sends your shadow gliding across the bottom. A whisper of  breath buoys you up, chasing a flash of color. Immersed, you hover, freed from the gravity and worries of the surface…
Scuba Dive an Underwater Gnome Garden in Britain's Lake District
Yahoo: Far from any neatly trimmed lawns, a clan of gnomes lurks under the surface of England's deepest lake: Wastwater, in Cumbria.
A Look Under the Hood
Cold-water divers explore Puget Sound's jade underbelly
Seattle Post-Intelligencer: I grew up on the coast of Puget Sound, galloping along drift logs and squelching across mud flats. Yet the inland ocean remained a cipher: a reflecting pond for the snow-shadowed mountains. Now I've plunged through the looking glass.
California's Channel Islands National Park
Scuba Diving: Sea lions torpedo past skeins of playful seals and kelp forests offshore from surfer-chic Santa Barbara. One of the eastern Pacific's most pristine ecosystems, the Channel Island National Park protects 200 square miles, renowned for isolated evolution, much like the Galapagos. The five islands protect the park system's highest concentration of endangered and endemic species. No wonder documentarian Ken Burns showcased the area.
Triple Threat – Honduras
Sport Diver: Even lightning slows in the Bay Islands of Honduras. It pulses long and lazy on the sea's edge, as if uncertain whether to head for the hammock or pop another Salva Vida (Lifesaver) beer. But that's the allure here, where pirates once mingled with indigenous groups of Indians and the Afro-Caribbean Garifuna.
Urban Submersion: Sublime Seattle
Sport Diver: Seattle has outgrown its ripped flannel, along with the rise of Amazon, Boeing, Starbucks and Microsoft. But America's most educated city still heeds the call of the wild. For small talk, think snow pack and swell reports, not stock options.
Water World
Washington State Visitors Guide 2011: Piratical Explorer Sir Francis Drake once described the Northwest as a land of "congealed rain." And for outdoor types exploring Washington, all that moisture's a fine thing. Miles of pristine coastline, powerful rivers, clear lakes, and tranquil bays all converge here, providing boundless opportunities to immerse yourself in an Evergreen State adventure.