My work expanded from magazines and newspapers, as I began my second decade as a professional writer. I've now worked on over 30 books.
Library of Things: A Cornerstone of the Real Sharing Economy
Contributor: "Libraries of Things continue to catalog success"  (Shareable 2020)
The Unique States of America 
Contributor: I wrote a fun little sidebar about Washington's Pig War, one of my favorite topics (Lonely Planet, 2019)
Due North

Editor: I gave developmental suggestions and proofed a memoir by Travel Writer and National Geographic Photographer Lola A. Åkerström. The volume won a 2018 gold for Best Travel Book from the Lowell Thomas Awards. (Geotraveler Media Sweden, 2017)
The Body Parts Menu Of Good Table Manners
Editor: I helped my former student Dagmar Pelzer polish this "sure-fire survival guide to the Western World" (CreateSpace 2015).
Break Into Travel Writing
Contributor: I shared my "reverse outline" technique for Beth Blair's insightful book (Teach Yourself 2012).
Frommer's Best Hiking Trips in British Columbia
Contributor: I covered ten treks on Vancouver Island – including the legendary West Coast Trail – for this new Canadian series (Frommer's 2009).
Wanderlust and Lipstick: Traveling with Kids
Copyeditor: I learned a good deal about breast pumps and toddler-wrangling tricks, while proofing this guide by Leslie Forsberg and Michelle Duffy (Wanderlust and Lipstick 2009).
Michelin Green Guide Rome
Updater: I edited and revised this guidebook to my favorite city with help from colleagues on Michelin Roma (Michelin 2007).
National Geographic's Journeys of a Lifetime
Contributor: I covered a Bedouin feast and jeep tour of Wadi Rum, the desert made famous by Lawrence of Arabia in Jordan (National Geographic 2007).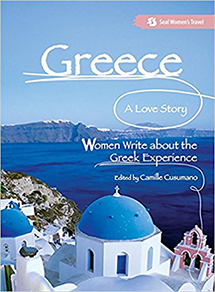 Greece, A Love Story
Contributor: I explored my divorce with an essay. Camille Cusumano — whom I worked with on the corresponding Italy volume — also edited this anthology (Seal Press 2007). Check out the book website.
Single State of the Union
Contributor: Tangled Up in Wild Blue chronicles my all-terrain-Barbie lifestyle as a travel writer. This sassy anthology – edited by hometown heroine Diane Mapes – is subtitled: Single Women Speak Out on Life, Love and the Pursuit of Happiness (Seal Press 2007).
PhraseGuide Greek
Author: I translated a slim, yet elegant, volume of essential Greek. Through The Content Works (now Enveritas), I also edited the English-language portions of nine other pocket phrasebooks (Thomas Cook 2007).
Michelin Green Guide Sicily
Updater: I edited and revised this guidebook with Anna Melville-James and help from colleagues on Michelin Sicilia (Michelin 2007).
Frommer's Dream Vacations
Contributor: I covered three classic destinations for a full-color coffee-table guide: Croatia's Dalmatian coast, the crater-island of Santorini and the lunar landscape of Cappadocia, Turkey (Frommer's 2007).
Frommer's Italian PhraseFinder
Copyeditor: I helped write and cull content for this first-edition PhraseFinder & Dictionary, under the lovely editor Maureen Clarke (Frommer's 2006).
Michelin Green Guide Italy
Updater: I edited and revised this classic cultural guidebook to "the boot," with Anna Melville-James and help from colleagues on Michelin Italia (Michelin 2005).
Italy, A Love Story
Contributor: I expanded my popular essay, Roman Traffic al fresco, for this anthology, subtitled Women write about the Italian experience, and edited by Camille Cusumano (Seal Press 2005).
Travel Writing Textbook
Contributor: I'm covering the genre, development of initial ideas and basic travel photography for this college text, edited by Jim Poynter (Leromi Publishing 2005).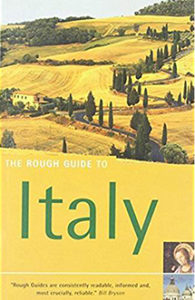 Rough Guide Italy
Updater: I reworked the section on Lazio, the region surrounding Rome, where I lived for two years. The chapter was originally drafted by Martin Dunford. (Rough Guides 2005)
Greece: Garden of the Gods
Editor: This Greek garden book, written by the Athens News columnist Jennifer Gay, explores Mediterranean horticulture. (Athens News 2004)
DK Eyewitness Travel Guide: France
Copyeditor and typesetter: I formatted reviews in Quark for this Dorling Kindersley Eyewitness Guide, in addition to proof reading. Working with The Content Works, I delivered 300 pages, prepared for press, on an extremely tight deadline. The book won the Golden Ladle for Best Food Guide Book at the 2005 World Food Media Awards (DK 2004)
Time Out Athens Guide
Contributor: Given my classics background, I was entrusted with the mythology section, as well as a feature on ancient heroes in film. Admirably, the editors only hire local writers, making these books shine. (Time Out 2003)
Rome in Detail
Contributor: I wrote the chapter on the Via Giulia and a feature on traditional Roman bookbinding for this elegant volume, edited by Claudio Gatti. The pieces originally appeared in Italy Daily, the now-defunct supplement to the International Herald Tribune. The series has won praise for its depth and style. (Rizzoli 2003)
AA Key to Rome
Contributor: I reviewed hotels, restaurants and activities in the Eternal City for the Automotive Association. The project was masterminded by The Content Works, a London-based media company. (AA 2003)